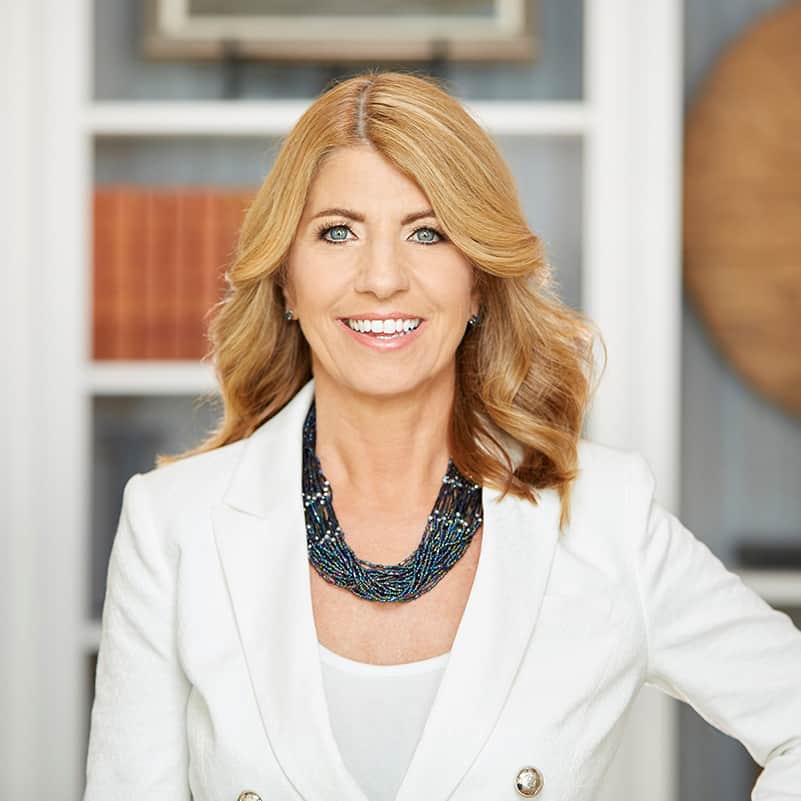 Real Estate Advisor/REALTOR®
|
Sales Associate
Whether you are buying or selling real estate, rest assured that Tina Rudek-Stark has your best interest at heart. As a resident since 1988 and a top producer of Longboat Key, Sarasota and surrounding area, you will benefit from Tina's extensive experience and knowledge of the market. Her integrity, perseverance and her positive energy always shine through to make every transaction a pleasant and successful experience. Serving both the residential and commercial market since 1996, [...]
Whether you are buying or selling real estate, rest assured that Tina Rudek-Stark has your best interest at heart. As a resident since 1988 and a top producer of Longboat Key, Sarasota and surrounding area, you will benefit from Tina's extensive experience and knowledge of the market. Her integrity, perseverance and her positive energy always shine through to make every transaction a pleasant and successful experience. Serving both the residential and commercial market since 1996, Tina's passion for real estate and the ability to truly listen to her clients continue to produce outstanding results.
Raised in Germany, Tina lived in New York and New Jersey before discovering the greater Sarasota area with its vibrant yet laid back energy. She began her Real Estate Career in 1996 with Wedebrock Real Estate Company, a pioneer in Real Estate Sales and Rentals on Longboat Key since 1950, and became an agent of Engel & Voelkers when Wedebrock was acquired by E&V Longboat Key Realty in 2009. In 2005, Tina was responsible for one of the highest sales on Florida's Gulf Coast and the largest sale in her companies 55-year history. Tina has continuously been honored as Top Listing and Top Selling Agent and was the "Highest Producer Company Wide" throughout her career with Wedebrock and E&V. In 2016, Tina joined RoseBay International and is responsible for the companies largest sale in their 29 year history, which was also one of the highest sales on the Florida Gulf Coast in 2018.
Languages: English, German
Office Location
5370 Gulf of Mexico Dr. #209
Longboat Key, FL 34228
Contact Info
Specifications
Languages: English, German
Specialties: Buyer Agent, Consulting, Listing Agent, Luxury Properties
Service Area: Bradenton FL, Cortez FL, Longboat Key FL
Tina's Testimonials
"Tina was amazing! She was very real and knowledgeable with us about all the properties that we looked at - pointed out the good and the bad. She guided us well in putting in a winning offer on the condo that we chose to buy during this crazy environment. Even after our offer was accepted, Tina has been very helpful with other things that we have needed in the whole process. I would highly recommend Tina to anyone considering a property purchase in this area!" - Jeanne J.
In one word… EXCELLENT!! But we need to add some more to describe this amazing realtor Tina …She worked for us around the clock to make this transaction work brilliantly. She is confident, resourceful, realistic and sets great expectations! She knows her market! Additionally we found her to be super friendly and helpful! If you are lucky enough to have her as your realtor or involved in your real estate transaction, consider yourself fortunate! You have worked with the best of the best! [...]
~Diane G.
11 July 2023, 09:05 AM
"Tina has excellent current market knowledge. Her pricing expertise is what sold my property at 12917 42nd terrace West, Cortez in record time. Tina goes above and beyond to accommodate both sides of the transaction. Her energy leaves no stone untouched! I highly recommend Tina to sell and buy any property." -lilo71
Tina has sold 3 properties for us at Sand Cay Beach Resort in the last 10 years.  Two in the last 3 months.  We feel very fortunate to have had Tina working for us.  She made us feel confidant that she was doing everything possible to sell our properties .  Tireless is a good word for Tina and personality plus.  She knows her business and it shows.  I would  never have anyone else if I ever need a realtor again.  She is simply the best !!!!
"It's true that Tina Rudek-Stark has been a friend for more than 20 years, so it's not unusual that she would put a bit more effort into getting the job done for me. But still she managed to surprise and impress me at every turn! Not only was she tremendously supportive, patient, reassuring and empathetic, for which my family was deeply grateful, but her knowledge and professionalism was commented upon by everyone we dealt with. She knows her stuff, she asks all the right questions, and [...]
"Tina Stark was recommended to us and it couldn't have been a better fit! She was wonderful, patient and very helpful." - Kevin M.
"Very positive. Always responsive within a short amount of time following my own inquiries. Good suggestions concerning sales strategies." - Philip D.
I've sold many properties before and have never dealt with such a professional real estate agent as Tina! In addition, she sold our house quickly and walked us through the selling process every step of the way. Thank you, Tina! - Peggy W.
"Experience was great. Tine Rudek-Stark was awesome in every facet of the search, offer, and buying of the property. I would highly recommend Tina. Even after the sale, when we needed help with certain things, she continued to help us out and do everything she could." - Mark J.
"Tina is an amazing real estate professional. I have done 7 different sale and purchase transactions with her over the last 20 years and expect to do more in the future. Tina's in-depth knowledge of the real estate market, the history of LBK and the surrounding area, her personalized hands-on approach and practical advice, and her well established list of professional contacts have made each of the deals operate seamlessly and reach a successful conclusion. " -Chuck N.
Contact
Hi there! How can we help you?
Contact us using the form below or give us a call.
Hi there! How can we help you?
Contact us using the form below or give us a call.