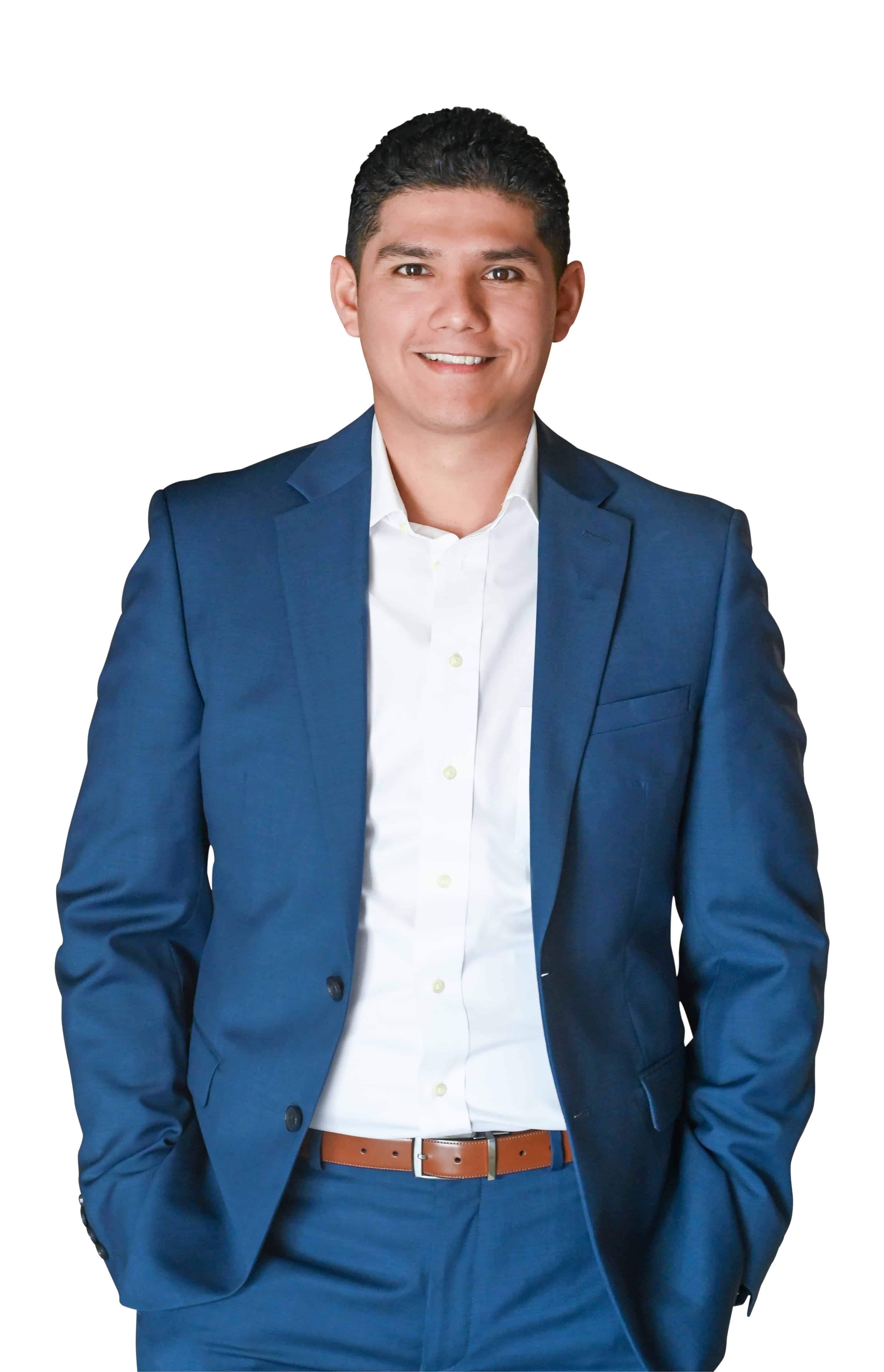 REALTOR®
|
Sales Associate
Thinking of relocating? Alan has empathy and advice as he has gone through the process a few times himself. Born in Guadalajara Jalisco, Mexico he moved to Goshen, Indiana where he meet his now wife of 7 years who was born and raised in Sarasota, FL. Leading them to decide to raise their own two children, a now 5 year old daughter and 2 ½ year old son, in the sunny city of Sarasota. You can often find them at the beach or taking walks at Island Park. Fluent in Spanish, Alan appreciates [...]
Thinking of relocating? Alan has empathy and advice as he has gone through the process a few times himself. Born in Guadalajara Jalisco, Mexico he moved to Goshen, Indiana where he meet his now wife of 7 years who was born and raised in Sarasota, FL. Leading them to decide to raise their own two children, a now 5 year old daughter and 2 ½ year old son, in the sunny city of Sarasota. You can often find them at the beach or taking walks at Island Park. Fluent in Spanish, Alan appreciates the diversity of cultures in our region and getting to easily expose his family to many new experiences. A Realtor for over 3 years he focuses on providing clear communication through out the process and going the extra mile for his clients. With his friendly personality and strong negotiating skills, he is the champion you need to secure you the best deal!
Office Location
1815 S Osprey Ave
Sarasota, FL 34239
Specifications
Languages: English, Spanish
Specialties: Buyer Agent, Listing Agent
Service Area: Bradenton FL, Parrish FL, Sarasota FL
Alan's Testimonials
"The experience I had was very easy going. The whole team went beyond expected to getting me into my new home. I would highly recommend!!" -Erasmo C.
"It was excellent, he showed me and accompanied me throughout the process. I really recommend Alan. Always on time and listen to what one is looking for." - Giselle D.
Alan es súper amable muy buena gente te ayuda en absoluta mente todo muy paciente sobre todo y te explica todo lo importante de cada papel que se está firmando. Te ayuda asta el último momento que ya la propiedad es de uno. Lo recomiendo en su totalidad por su amabilidad y paciencia pues, para muchos de nosotros es la inversión de nuestras vida. Alan is friendly and a very good person who helps you in absolutely everything. He explains everything important of each paper that you're signing. [...]
"Working with Alan it was really a pleasure. Really quick to respond and to take care of things." - Ana S.
"I extremely recommend Alan Hernandez!!! He was extremely helpful in all processes and we got a wonderful team working with us, the process was very easy and smooth! Thanks Alan!!" -Helia M.
"Alan is very helpful and knowledgeable when it comes to advising about buying a property, the right property. He takes the time to show and explain in details about everything that need to be known and aware of." - Martinez Family
"Alan is an excellent seller always willing to help at all times find a way to find what you are looking for me thanks to his efficiency I have the house I was looking for !!!" A"lan es un excelente vendedor siempre está dispuesto a ayudar en todo momento busca la manera de encontrar lo que estas buscando yo gracias asu eficiencia Tengo la casa que buscaba !!!"
Alan Hernandez, is the best realtor that I have ever dealt with. Very professional, knowledgeable and truly cares about his clients. Rosebay International should do everything necessary to have as many realtors like him in their company.  -C. Greene
"Our house buying process wasn't the easiest one. Right when we were closed to our closing date of our house the National lockdown happened because of Corona Virus. Everything got more complicated with all parties. In all that time Alan kept a very closed communication with us trying to facilitate everything for us. It was a very stressful situation but we never felt alone and we were lucky to have Alan as our Real Estate Agent. Thankfully we're now happily living at our new home" - Ana R. [...]
"Alan is a kind and genuine young man who helped me not only find my dream house, but paid attention to everything I wanted in my home. Alan is very respectful, kind and very professional. Without a doubt I would highly recommend him as a Realtor. For any further home purchases I wouldn't go to anyone but him. Thank you Alan, you truly were a blessing."
Contact
Hi there! How can we help you?
Contact us using the form below or give us a call.
Hi there! How can we help you?
Contact us using the form below or give us a call.